FOR WHEREVER YOUR JOURNEY TAKES YOU.
Conquer new terrain, explore new horizons and experience new adventures. A new 21" front wheel, switchable ABS, longer travel suspension and substantial ground clearance provide true off – road ability. Bespoke ergonomics, electronic rider aids, cruise control, bi-directional quickshifter and full-colour TFT display offer long-haul comfort, confidence and excitement on every journey. ANY TERRAIN | ANY HORIZON | ANY ADVENTURE.
THE MASTER OF ADVENTURE
These new models offer you a choice geared toward your desire to explore different types of adventure. The V-Strom 1050DE has enhanced performance and control when exploring further on gravel and dirt with its 21-inch front wheel, longer travel suspension, bespoke ergonomics, greater ground clearance and gravel specific braking and traction control options and more. The V-Strom 1050 is engineered with a stronger focus on maximising comfort and enjoyment when riding long distances and on paved roads with its 19-inch front wheel, dedicated ergonomics, larger screen, bi-directional quickshifter and a host of other advanced electronic rider aids. If the V-Strom 1050 sounds more like your kind of bike, rather than the 1050DE please click the link below, otherwise please scroll down to discover all the amazing features and benefits of owning a V-Strom 1050DE. 
Models shown with optional accessories.  
SUZUKI INTELLIGENT RIDE SYSTEM (SIRS)
Suzuki's extensive collection of electronic rider aids were developed to assist and help you optimise performance, comfort and enjoyment to match your changing riding needs, preferences as well as difference weather and terrain. By making the V-Strom 1050DE feel more controllable, predictable, fun to use and less tiring to operate, these systems help you ride with greater satisfaction, confidence and peace of mind, whether touring for long distances, carrying gear, or leaving paved roads behind to explore new horizons and trails.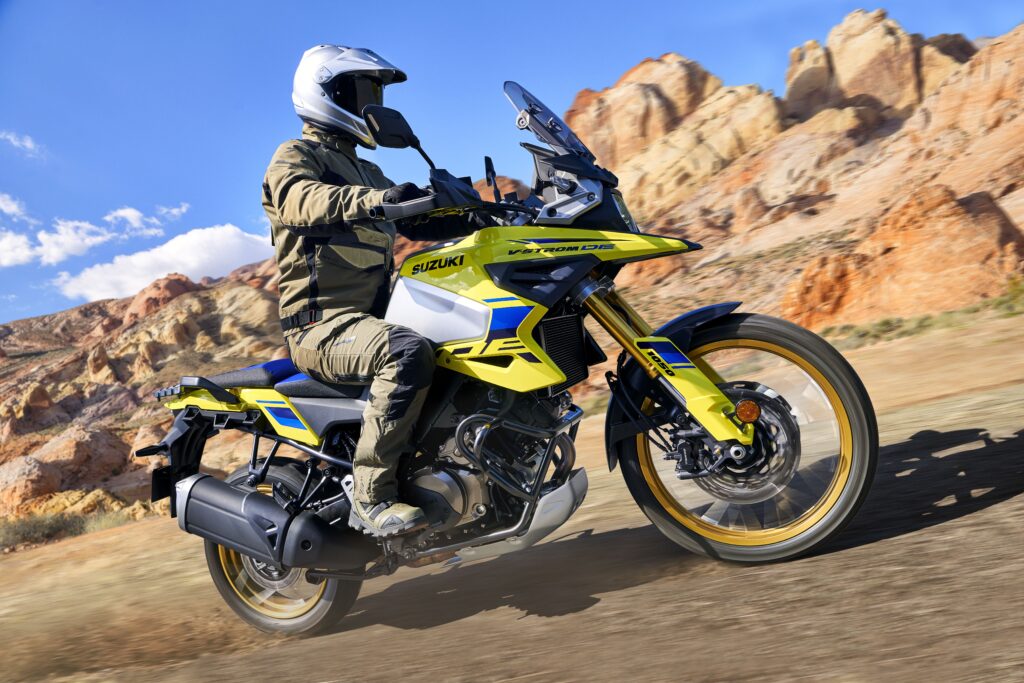 BI-DIRECTIONAL QUICK SHIFT SYSTEM
This standard-equipment feature lets you shift up or down without operating the clutch lever. When activated, the system delivers clean, silky smooth upshifts with uninterrupted acceleration. Downshifts are also quick and smooth, thanks in part to automatic hands-free blipping and engine braking working together harmoniously.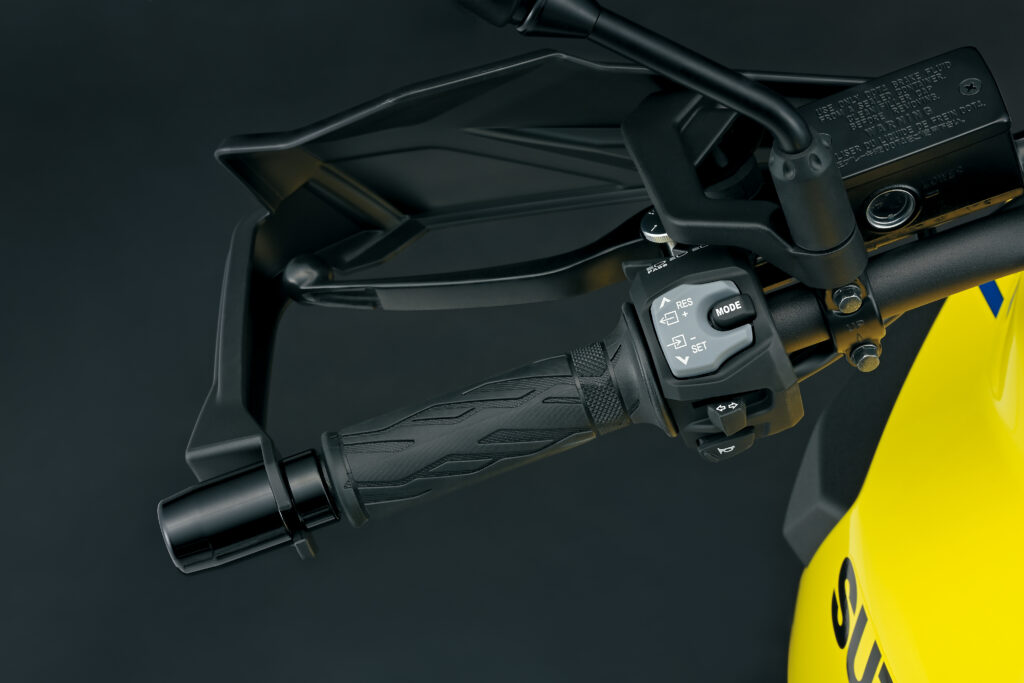 CRUISE CONTROL SYSTEM
Cruise control reduces fatigue when travelling long distances at constant speeds by letting you maintain a set speed without operating the throttle. The system allows settings when riding in 2nd gear or higher at engine speeds between 2,000rpm and 7,000rpm, which translates to vehicle speeds of roughly 15mph to 100mph. The handy resume function re-engages the system and returns to the most recent speed setting after cancelling
6 AXIS IMU & MOTION TRACK BRAKE SYSTEM
Vehicle posture data from the 6 axis Inertial Measurement Unit (IMU) is combined with front and rear wheel speed sensor data to allow ABS activation, even when leaning into corners. This helps maintain traction and lean angle so you can better trace your intended line through the corner. Integrating accelerometers and gyroscopes into a single compact package, the 6 axis Bosch IMU measures angular rate and acceleration to constantly monitor pitch, roll, and yaw movement.¹